"There's two kinds of people in this world, Elvis people and Beatles people. Now Beatles people can like Elvis. And Elvis people can like the Beatles. But nobody likes them both equally. Somewhere you have to make a choice. And that choice tells me who you are." - Mia Wallace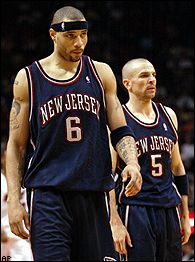 Last Sunday, I joined my friend Jimmy at a bar to watch the Nuggets playoff game. He is from Colorado and was rooting strongly for his team. I was just a casual fan,
taking my own advice
by trying to absorb as many playoff games this spring as possible. But as I downed the brews, I slowly realized...
There was Jason Kidd. There was Kenyon Martin. On the court. Playing
against
each other.
I ran through the gamut of emotions. Confused. Shocked. Bitter. Depressed. But ultimately, I was happy for them. It has been written at length before by much better writers than me, but rooting for a sports team is a completely one-sided relationship. As a fan, you just have to take as much vicarious happiness as possible. And these two players were responsible for the best memories I have as a fan. So, it was inspiring to see them back in the playoffs, rebuilding careers that have been deteriorated by age (Kidd) and injury (Martin).
However, like the quote above implies, I have to root for one. I am sure many people watching this series just hoping to see good basketball and remain impartial. While I attempt to do this, deep down, I am always pulling for one team over the other. I have debated this in my mind. I feel like a child who's parents have divorced and are playing each other in the Western Conference semi-finals. So, time to break it down.
Kidd, without a doubt, was the MVP of the glory days of Nets basketball. He set the expectations for the team high, and carried them to two NBA Finals. While he doesn't have the best off court character, he made all his teammates better, and indirectly earned excessive contracts for Richard Jefferson, Jason Collins, Brian Scalabrine, Mikki Moore, and, yes, Kenyon Martin. Just look at Josh Boone's production since Jason Kidd left - he cost Boone a contract that could have rivaled Jerome James in the level of ridiculousness. Without question, Kidd is the greatest Nets player to wear the number 5, and will be the last player to wear that number.
Martin, on the other hand, is no where near the talent Jason Kidd was. However, he brought a fury and passion for the game that I have not seen EVER on the Nets. Screaming after dunks, the flagrant fouls, the ball-engulfing blocks, the intense commitment to defense - who was this, and did he know he was playing on the Nets. In high school, I used to bring homework to the Nets games. That's how dead it was at the arena. But when Kenyon Martin rolled into town, the Continental Arena became a frenzied place. K-Mart was, without question, the emotional leader of the team.
But enough of my ranting, I'll let Lawrence Frank break it down. Just listen to the first question of this video:
The way they left were both infuriating yet understandable. Ultimately, both wanted more money. Kenyon was young, and wanted the big contract. Since he stayed all four years at college, he was older when he rookie contract ended. He was only going to get one large contract, so he had to milk it for all he could. The Nets ended up getting a few picks back, which they parlayed into Vince Carter. Kenyon has since battled injuries, so in hindsight, the Nets were able to make the best of a bad situation.
Kidd, on the other hand, left on a more contentious note. He realized his window of opportunity was slipping, and wanted to be traded to a "contender". It was a slap in the face to the fans who supported him for 7 years. However, I think winning wasn't nearly as important as getting more money. When Thorn rejected Kidd's demand for a contract extension, that's when the powder keg ignited. On the bright side, the Nets also came out of this well, too, shedding salary, gaining a young stud in Devin Harris, and adding a few draft picks as well.
While I do not hold a grudge against Kidd, I feel I can relate to Kenyon's situation a bit more. He was a free agent, and could go wherever he wanted. Kidd was still being paid, and owed it to his employers, teammates, and fans to show respect and play through his deal in good times and bad. So, by the thinnest of margins, I'm throwing my support to Kenyon Martin. Either way, I hope the series provides great entertainment, and I'll be happy with either team winning.
Note: I'm publishing this early, because if I wait until Monday, the series may be over. I may post something new on Monday, stay tuned.